The 10th Annual Matt Savage Marching Percussion Camp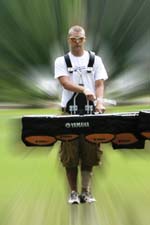 Click here to view/download the Matt Savage Marching Percussion Camp promotional video!
The 10th Annual Matt Savage Marching Percussion Camp is a week filled with intense learning, fun activities, and the making of new friends from throughout the Carolinas and beyond. This year's camp will be held at beautiful Camp Millstone, a beautiful retreat nestled in the woods just south of Southern Pines in Ellerbe, NC.
We are very excited that all cabins at Camp Millstone have recently been refurbished and now feature air conditioning as well as bathrooms and showers in every cabin!
These great upgrades will help to enhance the large meal hall, recreation hall, swimming pool, great shady spots and a beautiful field for our performances.
The focus of our Annual Camp is rudimental drumming, marching percussion and "pit" percussion. This is accomplished through a highly structured curriculum unlike that of any other percussion camp in the nation.
The camp philosophy and curriculum will be based on a camp I have taught in Oregon, with Alan Keown, since 1989. It is a time tested and proven approach that makes this camp one of a kind!
The #1 goal of the camp is of course to improve drumming and musicianship skills but there is also a strong focus on developing life skills, a strong work ethic, meeting and getting along with new people, respecting each other, and making good life choices. We like to say that after attending this camp, every student will be "changed" for the better.
Special Guest Instructor!
The 2013 Matt Savage Marching Percussion camp is pleased to announce the return of special guest instructor Matt Keown to this year's camp.
MATT KEOWN is a former camper at the Matt Savage Marching Percussion Camp. He has gone on to develop into one of the most well rounded university level percussionists in the country. Matt was a snare drummer with the 2009 and 2010 Blue Devils and became section leader and center snare in 2011. He is a percussion major at the University of Oregon and a featured clinician for Remo Inc.
2013 Camp
Date
June 9—15, 2013
Registration Deadline
May 25th, 2013 (w/$150 deposit).
Download registration and other forms from the forms page.
Cost
$495.00 per person.
$150 deposit with registration.
$345 due at camp check in.
This includes improved refurbished cabins with AIR CONDITIONING, BATHROOMS AND SHOWERS IN EACH INDIVIDUAL CABIN!!! The cost also includes meals, instructional materials, drum sticks and camp t-shirt. The camp will be just as valuable to your top players and section leaders as it will for younger, less experienced players to improve or move to another drum in the fall.
Check in will take place at Camp Millstone's Rec Hall between 5:00 pm and 6:30 pm on Sunday, June 9.
Location
New and improved Camp Millstone 4-H Camp in Ellerbe, NC. Click here for directions.